SALT LAKE CITY — University of Utah Health is shifting most of its COVID-19 testing indoors.
With winter approaching, the health care agency said it will expand testing for the novel coronavirus to 12 indoor facilities beginning Wednesday. The move will allow health experts to evaluate patients for seasonal viruses like influenza and the cold, which also produce similar symptoms as COVID-19.
The University of Utah's Rice-Eccles Stadium location will remain open during the winter as the only outdoor testing center location. It reopened Monday after a truck crashed into one of the testing huts last week. Other in-car testing locations in Farmington, Salt Lake City and South Jordan will close for at least the season.
Most of Utah's testing since the beginning of the COVID-19 pandemic is conducted outdoors. People drive up to a location, get tested and leave. U. Health began requiring appointments ahead of time in September to reduce long lines.
Under the change announced Tuesday, individuals seeking to get a test can either visit the Rice-Eccles drive-thru site or schedule an appointment for testing at one of 12 U. Health facilities scattered across the Wasatch Front and surrounding areas.
The indoor locations are:
Centerville Health Center (26 S. Main)
Farmington Health Center (165 N. University Ave.)
Greenwood Health Center (7495 S. State in Midvale)
Madsen Health Center (555 S. Foothill Boulevard in Salt Lake City)
Parkway Health Center (145 W. University Parkway in Orem)
Redstone Health Center (1743 W. Redstone Center Drive in Park City)
Redwood Health Center (1525 W. 2100 South in Salt Lake City)
South Jordan Health Center (5126 W. Daybreak Parkway)
South Ogden Health Center (5957 S. Fashion Point Drive in Ogden)
Stansbury Health Center (220 Millpond Road in Stansbury Park)
Sugar House Health Center (1280 E. Stringham Avenue in Salt Lake City)
Westridge Health Center (3730 W. 4700 South in West Valley City)
More outdoor testing may resume if there's an overwhelming need for testing that exceeds what is capable indoors, said Dr. Richard Orlandi, University of Utah Health's associate chief medical officer of ambulatory health. He added that it will likely return in spring, as well.
The move indoors was announced Tuesday, but officials began to plan for indoor testing during the summer when officials were concerned with staff sweltering in the heat. Winter in Utah leads to a completely opposite situation, with cold temperatures, snow and bitter winds.
"Outdoor testing and winter don't mix well," Orlandi said, adding that it should allow staff to be safe and more comfortable.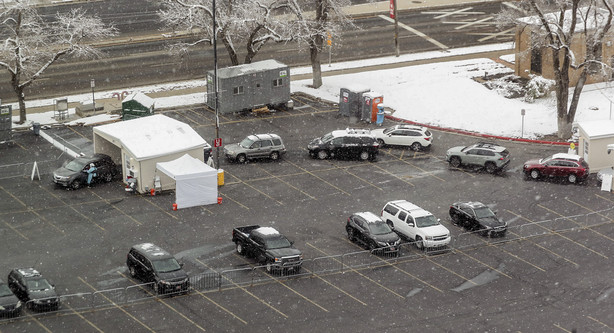 Given the months of learning about COVID-19 safety, officials said Tuesday that they feel they have a better understanding about how to handle coronavirus testing indoors. For example, all patients must wear a face covering when inside a U. Health facility.
There are also designated waiting and collection areas to separate patients while inside to increase physical distancing, as well as thorough cleaning of surfaces.
"We're not just doing the minimum requirements," said Nikki Gilmore, U. Health's senior nursing director of ambulatory health.
The move also allows staff to evaluate patients better than previously. The upcoming winter months are when other traditional viruses emerge. Fall is traditionally the beginning of the flu season and the state reported its first two flu hospitalizations at the end of October.
Additional viruses like the common cold, strep throat, respiratory syncytial virus all cause symptoms similar to COVID-19. Even gastrointestinal illnesses can mirror coronavirus symptoms.
This allows staff to figure out if someone has COVID-19 or something that produces symptoms similar to it so they can be better treated, Orlandi explained.
While many patients are still encouraged to schedule virtual meetings, some may need to have their lungs checked or X-rays related to their symptoms. They can be evaluated for their symptoms while also testing for COVID-19 or any other possible virus.
"Not all patients will require an evaluation. If symptoms are mild and they simply need a test, we can accommodate that as well," Orlandi said. "We're really trying to be flexible to our patients' needs and what they need because we know this virus manifests very differently in different patients."
Michael Bronson, senior director of community clinics, explained that the drive-up testing sites take about three minutes to complete a test. He believed the indoor testing will take a bit longer with symptom checking.
People can schedule an appointment online or by calling U. Health's COVID-19 hotline at 801-587-0712.
Also on Wednesday, the U. Health will oversee a mass testing of University of Utah students ahead of the upcoming Thanksgiving break. The state announced Sunday they would implement regular asymptomatic testing of all college students as a part of a state emergency that went into effect.
Orlandi said that student testing will be held separately from testing the general public. For example, student testing will be held inside Rice-Eccles Stadium and away from the drive-up site in the parking lot. Officials are still piecing together how they will test all students beginning in January.
×
Related Stories
More stories you may be interested in