Vermilion County's pandemic death toll is now at 34 after health Administrator Doug Toole announced four new fatalities late Tuesday afternoon.
Women in their 70s and 90s and men in their 60s and 90s were the latest county residents to lose their lives to COVID-19.
"Our thoughts and prayers go out to their friends and and families, and to all of those whose lives have been impacted by this pandemic," Toole said.
(A fifth fatality reported earlier Tuesday had yet to be officially verified, Toole said).
Meanwhile, the county's confirmed case total rose to 2,759 after 86 new positive tests were reported Tuesday.
With 111 residents being released from isolation, Vermilion now has 248 active cases.
Twenty-four COVID-positive residents are hospitalized, Toole said.
How the new cases break down by age:
Two residents in their 90s
Five in their 80s
Five in their 70s
14 in their 60s
Eight in their 50s
17 in their 40s
13 in their 30s
11 in their 20s
Nine teens
One grade-school-aged child
One infant
---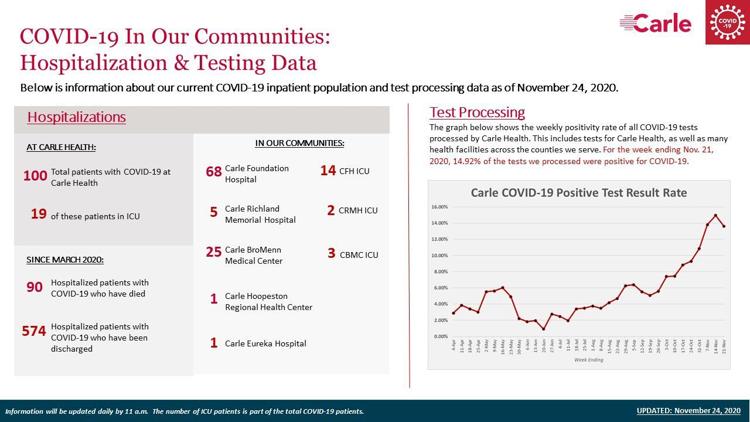 Fourteen of the 68 COVID-positive patients at Carle's hospital in Urbana are in intensive care, according to data updated Tuesday by Carle Health.
The number of ICU patients at the Urbana hospital increased by one from a day earlier. The number of COVID-positive patients decreased by six since Monday.
In all, 100 patients with COVID are hospitalized in Carle facilities (down nine from Monday), with 19 of those in ICU (down one).
Carle's BroMenn Medical Center in Bloomington has 25 COVID-positive patients (three in ICU) while Richland Memorial Hospital in Olney has five (two in ICU).
Reporting one COVID patient each, neither in ICU: Carle's Hoopeston Regional Health Center and Carle's Eureka Hospital.
Carle began providing daily information on COVID patients last Wednesday, with the launch of a new online dashboard. Here's an overview of the first six days for its Urbana and Bloomington hospitals:
URBANA
Wednesday, Nov. 18: 69 patients, 6 in ICU
Thursday, Nov. 19: 70 patients, 7 in ICU
Friday, Nov. 20: 67 patients, 10 in ICU
Saturday, Nov. 21: 59 patients, 12 in ICU
Sunday, Nov. 22: 69 patients, 12 in ICU
Monday, Nov. 23: 74 patients, 13 in ICU
Tuesday, Nov. 24: 68 patients, 14 in ICU
BLOOMINGTON
Wednesday, Nov. 18: 21 patients, 3 in ICU
Thursday, Nov. 19: 22 patients, 4 in ICU
Friday, Nov. 20: 22 patients, 5 in ICU
Saturday, Nov. 21: 24 patients, 5 in ICU
Sunday, Nov. 22: 28 patients, 5 in ICU
Monday, Nov. 23: 28 patients, 5 in ICU
Tuesday, Nov. 24: 25 patients, 3 in ICU
Since March, 574 COVID-positive patients have been discharged from Carle facilities and 90 hospitalized patients have died.
Also Tuesday, the C-U Public Health District reported that 12 Champaign County residents were hospitalized with COVID-19, unchanged overnight.
---
Douglas County's confirmed case count grew by 12 Tuesday, to 1,334.
How the new cases break down by age:
Two teenage boys — ages 15 and 17
One woman and one man in their 20s
One man in his 30s
Two men and one woman in their 50s
Two women and two men in their 60s
Late Monday, the county also reported its 16th coronavirus-related death of the pandemic — a man in his 60s.
---
Men in their 80s and 90s became the 47th and 48th Champaign County residents to lose their life to COVID-19, health officials said Tuesday.
Meanwhile, the number of confirmed cases in the county grew by 103 Tuesday, to 10,215.
Other county numbers of note:
— Active cases were down for the second straight day — by 33, to 1,186.
— Recovered cases rose by 135, to 8,982.
— Close contacts in quarantine were up by 178, to 1,838.
Here's an updated rundown of county ZIP codes with active cases followed by their total number of cases, according to C-U Public Health District data:
61820/Champaign: 249 active (up three), 3,566 total (up 28)
61821/Champaign: 149 active (down five), 1,165 total (up 13)
61822/Champaign: 134 active (down five), 916 total (up eight)
61801/Urbana: 108 active (down one), 929 total (up eight)
61866/Rantoul: 108 active (down one), 878 total (up 13)
61802/Urbana: 93 active (down 16), 769 total (up seven)
61853/Mahomet: 79 active (down three), 488 total (up three)
61873/St. Joseph: 50 active (up two), 265 total (up five)
61880/Tolono: 36 active (unchanged), 220 total (up four)
61874/Savoy: 31 active (down one), 289 total (up four)
61847/Gifford: 19 active (down two), 77 total (unchanged)
61849/Homer: 18 active (down two), 57 total (unchanged)
61877/Sidney: 14 active (down one), 72 total (unchanged)
61878/Thomasboro: 13 active (unchanged), 54 total (unchanged)
61843/Fisher: 12 active (unchanged), 99 total (up two)
61864/Philo: 11 active (up two), 76 total (up two)
61859/Ogden: 11 active (up one), 41 total (up three)
61863/Pesotum: 11 active (down two), 39 total (unchanged)
61845/Foosland: 8 active (down one), 24 total (up one)
61871/Royal: 7 active (up one), 29 total (up one)
60949/Ludlow: 7 active (down one), 26 total (unchanged)
61862/Penfield: 5 active (down two), 28 total (unchanged)
61875/Seymour: 4 active (unchanged), 22 total (unchanged)
61840/Dewey: 3 active (unchanged), 18 total (unchanged)
61816/Broadlands: 2 active (up one), 21 total (up one)
61851/Ivesdale: 2 active (unchanged), 11 total (unchanged)
61872/Sadorus: 0 active (down one), 15 total (unchanged)
61852/Longview: 0 active (unchanged), 2 total (unchanged)
61810/Allerton: 0 active (unchanged), 1 total (unchanged)
The county's pandemic totals, according to CUPHD:
1,042,799 tests
10,215 confirmed cases
47 fatalities
13,927 close contacts quarantined
1,326 close contacts that became positive
---
The number of confirmed cases in Ford County rose by 18 Tuesday, to 658.
Of those, 440 are classified as confirmed, with the 218 others probable.
Ninety Ford County residents have lost their lives to COVID-19.
---
For the fourth straight day, the seven-day positivity rate for the region that covers Champaign, Douglas, Ford, Piatt and Vermilion counties decreased — from 13.7 to 13.4 percent.
The drops come amid advanced (or Tier 3) mitigation measures being in effect statewide.
To move onto the less-restrictive Tier 2, a region must meet three criteria:
— A seven-day average positivity rate below 12 percent for three consecutive days.
— Greater than 20 percent available ICU and hospital bed availability for three consecutive days.
— Declining seven-day COVID hospitalizations average in seven of the last 10 days.
The metrics the state uses to determine a region's rate cover a seven-day period that ended three days ago (figures posted Tuesday are through Nov. 21).
Region 6's metrics exclude data from the UI campus' massive saliva testing (if UI tests were included, the region's rate would be 5.3 percent).
A look at the Region 6 rate over time:
Oct. 26: 8.4 percent
Oct. 27: 8.6 percent
Oct. 28: 9.0 percent
Oct. 29: 9.3 percent
Oct. 30: 9.5 percent
Oct. 31: 9.9 percent
Nov. 1: 10.0 percent
Nov. 2: 10.0 percent
Nov. 3: 10.2 percent
Nov. 4: 10.2 percent
Nov. 5: 10.8 percent
Nov. 6: 11.3 percent
Nov. 7: 11.9 percent
Nov. 8: 12.2 percent
Nov. 9: 12.7 percent
Nov. 10: 13.0 percent
Nov. 11: 13.5 percent
Nov. 12: 13.6 percent
Nov. 13: 14.0 percent
Nov. 14: 14.0 percent
Nov. 15: 14.0 percent
Nov. 16: 14.3 percent
Nov. 17: 14.6 percent
Nov. 18: 14.5 percent
Nov. 19: 14.0 percent
Nov. 20: 13.7 percent
Nov. 21: 13.4 percent
Below is a look at the rolling seven-day rates of the 21 counties that make up Region 6, and how those rates compare to the previous day:
Fayette: 24.5 percent (+0.1)
Lawrence: 24.2 percent (+0.5)
Clay: 18.9 percent (-0.4)
Effingham: 18.7 percent (+0.2)
Jasper: 17.3 percent (-0.1)
Iroquois: 17.2 percent (-0.9)
Cumberland: 16.6 percent (+1.0)
Shelby: 16.2 percent (+0.2)
Crawford: 16.1 percent (-1.1)
Richland: 15.4 percent (+0.9)
Macon: 15.3 percent (-0.7)
Vermilion: 14.5 percent (—)
DeWitt: 12.5 percent (+0.2)
Douglas: 12.1 percent (+0.4)
Piatt: 11.8 percent (-0.2)
Ford: 11.1 percent (—)
Clark: 10.8 percent (-0.4)
Moultrie: 10.2 percent (+1.2)
Coles: 9.9 percent (-0.6)
Champaign: 9.0 percent (-0.6)
Edgar: 7.8 percent (+1.1)
If the UI's saliva testing results were included in the state's count, Champaign County's seven-day rate would be 2.0 percent, same as the three previous days.
---
Reports Steve Hoffman, editor of Community Media Group's Piatt County Journal-Republican:
Free drive-thru and walkup COVID-19 testing will be offered from 8 a.m. to 4 p.m. Saturday, Dec. 5 at the DeWitt/Piatt Bi-County Health Department (1020 S. Market St. in Monticello).
Health Administrator David Remmert said the effort is partially aimed at limiting the spread of cases after this week's Thanksgiving holiday.
"It's right after the Thanksgiving holiday, and kids are going back to school (on Dec. 7 in Monticello), and I think it provides an opportunity for basically everybody to be tested. You don't have to have symptoms," Remmert said.
"I think the value of that is that a lot of the cases that we are learning about, the person is asymptomatic," he added. "It's a good idea to get tested even if you don't have symptoms."
Remmert said that national studies estimate that 40 percent of COVID-positive people are asymptomatic. He pointed out that, while those are typically not as contagious as symptomatic cases, COVID-19 can still be passed on by those individuals.
Piatt County has been recording a record number of positive COVID-19 tests in recent weeks, including 115 new cases in the six-day period of Nov. 15-20.
Simple nasal swabs will be used at the clinic in Monticello. There is not cost for the testing. Insurance cards should be brought, but tests can be obtained without insurance.
Remmert encourages all to be tested, not just those who feel sick.
"Isolating those individuals, even though they may not have symptoms, it's an important safeguard for the rest of the public," he said.
---
Reports Jerry Nowicki, bureau chief of our Springfield-based news partner, Capitol News Illinois:
The state's rolling seven-day average COVID-19 case positivity rate decreased by a half-point Tuesday to 10.4 percent as hospitalizations continued to show signs of leveling, but officials urged caution ahead of the holiday weekend.
The 6,134 people hospitalized for COVID-19 as of Monday night marked a decrease of 37 from the day prior, while intensive care beds in use for the disease decreased by three from the day prior to 1,203.
Ventilator usage increased to a second-wave high, however, reaching 668, an increase of 34 from the day prior.
But Gov. J.B. Pritzker warned during his daily COVID-19 briefing Tuesday in Chicago that the upcoming Thanksgiving holiday could counteract the trend of apparent leveling.
"I want to remind everyone that our hospitals are still under siege by this latest upswing of COVID cases," Pritzker said. "And with the latest mitigations not expected to show up in the numbers for at least another week or 10 days, Thanksgiving this year needs to be different."
Illinois Department of Public Health Director Dr. Ngozi Ezike encouraged Illinoisans to see their families virtually, rather than meeting in person. She said she was "cautiously optimistic" about the leveling hospitalization numbers, but she noted caution is still needed.
"Without even knowing it, you could be putting your friends and family or yourself in grave danger," she said. "Please stay home this year. Let's save lives together."
Another 125 COVID-19-positive individuals were reported to have died over the previous 24 hours, according to IDPH, the seventh time the one-day death toll has topped 100 in the past two weeks.
That brought the death toll to 11,677 among 674,089 confirmed or probable cases since the pandemic began as the state reported another 9,469 cases Tuesday. More than 9.9 million test results have been reported.
Ezike said that the impact goes beyond those suffering from the virus.
"Even if you haven't been directly touched by loss related to COVID-19, even if you are among the almost 12 million who have not been diagnosed with infection, there is still a heavy mental impact that is taking a toll on you; it's taking a toll on all of us," she said.
She said the stress of job losses and loneliness of social distancing can be difficult to handle.
"Any or all of these things can cause short-term, and maybe even long-term mental health difficulties," she said, noting that many are "suffering in silence."
"Please don't underestimate how far a smile or a kind word can go, or an offer to pick up carryout from a restaurant and leave it on someone's doorstep, or simply provide an ear to listen to someone talk about their day or their frustrations," she said.
She urged those suffering from depression to utilize Illinois' free emotional support text line to contact mental health professionals by texting "talk" to 552020 or "hablar" to the same number for Spanish speakers.
Of the state's 11 mitigation regions, nine saw their positivity rates decrease from the day prior as of Nov. 21, while Region 9 in Lake and McHenry counties increased and Region 8 in DuPage and Kane counties remained level.
The positivity rates ranged from 12.5 percent in southern Illinois' Region 5 to 18.5 percent in Will and Kankakee counties, which make up Region 7.